The fashion world is fast-paced, seasonal, global—and increasingly sustainable. When garments arrive at fashion stores, they have to be pristine, wrinkle-free, and on time. A challenge the DACHSER Fashion Logistics industry solution is happy to take on.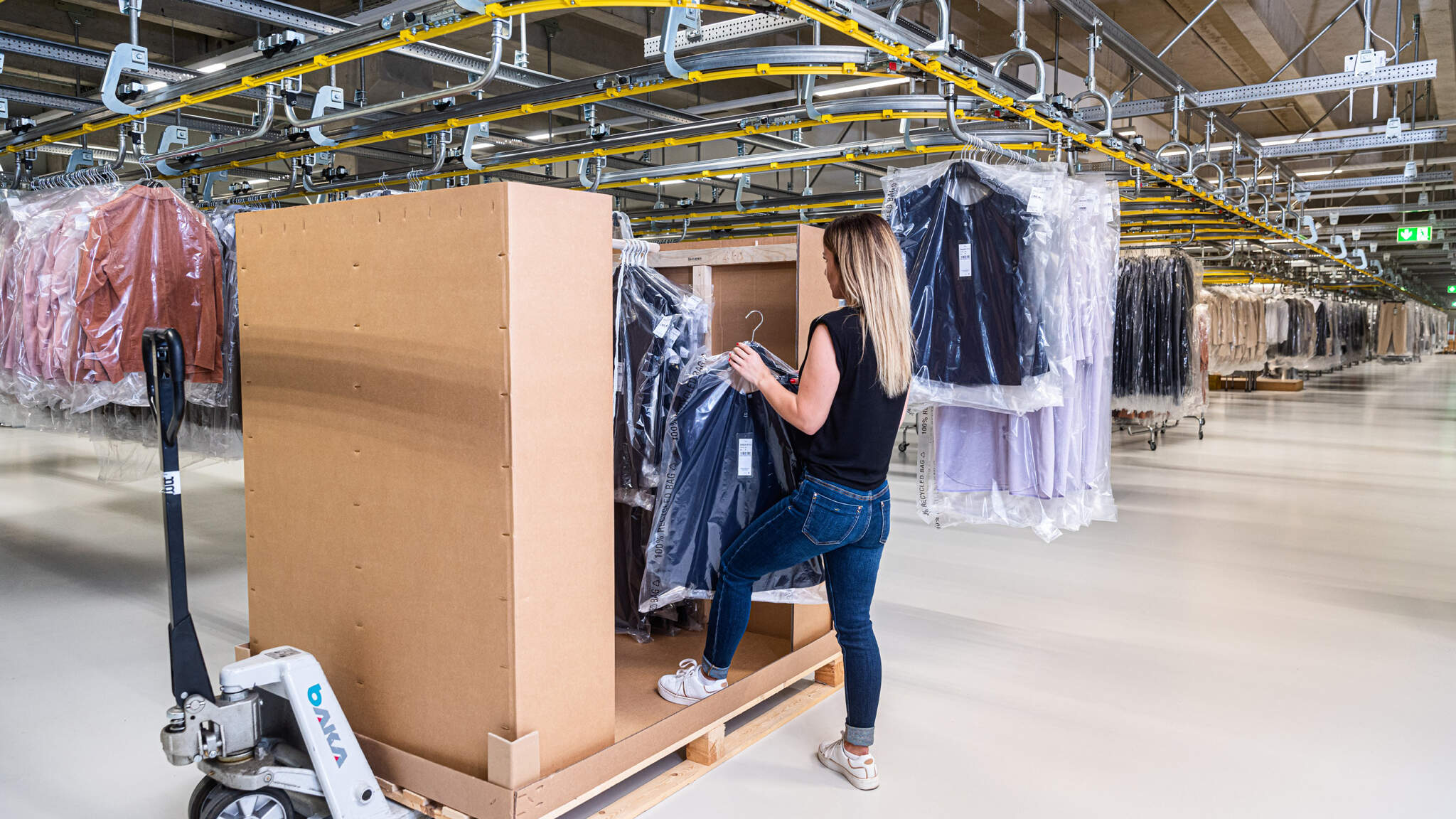 London, Milan, New York, Paris—in the world's fashion capitals, shows of the major fashion and luxury brands regularly attract fans and the trade press. Following these events, the exciting creations and trends are spreading to the global markets faster and faster. To be successful in this business, companies need a suitable logistics strategy so that the right goods reach their customers in top quality and on time.
This is where DACHSER comes in, with all its experience and an innovative range of industry-specific solutions. DACHSER Fashion Logistics focuses exclusively on the product categories of clothing, shoes, and accessories for customers in the luxury, high fashion, and mainstream segments.
"The fashion industry puts high demands on the delivery of its products and the supplementary industry-specific services. Key topics here are the wrinkle-free shipping of hanging items and the fastest possible collection of returns and faulty goods. In addition, the industry requires the rapid exchange of products between individual stores through shop-to-shop services," explains Uwe Riechel, Department Head DACHSER Fashion Logistics. "With our industry solution, we have equipped ourselves to handle the fashion world's diverse requirements."
Riechel says this capability is based on standardized processes and procedures in all branches of the DACHSER network. Added to this is the close integration of European overland transport and overseas transport as part of DACHSER Interlocking. "As a result, we are able to offer tailor-made, transparent, and integrated logistics solutions from a single source to our fashion industry customers, which are often global players. And we do it with trained personnel who specialize in the needs of the industry."
A fashionable logistics "zipper"
This holistic approach is reflected in the concept of the DACHSER Fashion Logistics Zipper. The Zipper combines the full range of logistics services: procurement, value-added services, warehousing, distribution in the B2B sector and to the point of sale, and returns management. "We consider the entire spectrum of logistics tasks and offer a solution portfolio that integrates them. In this way, DACHSER offers real added value for the industry," Riechel says.
"We are able to offer tailor-made, transparent, and integrated logistics solutions from a single source to our fashion industry customers, which are often global players", says Uwe Riechel, Department Head DACHSER Fashion Logistics.
Special attention is paid to the professional handling of high-quality and delicate clothing. After all, products need to reach the store in top condition. The fashion logistics experts at DACHSER rely on two innovative solutions here: the Roll&GOH and the ProFashional Box.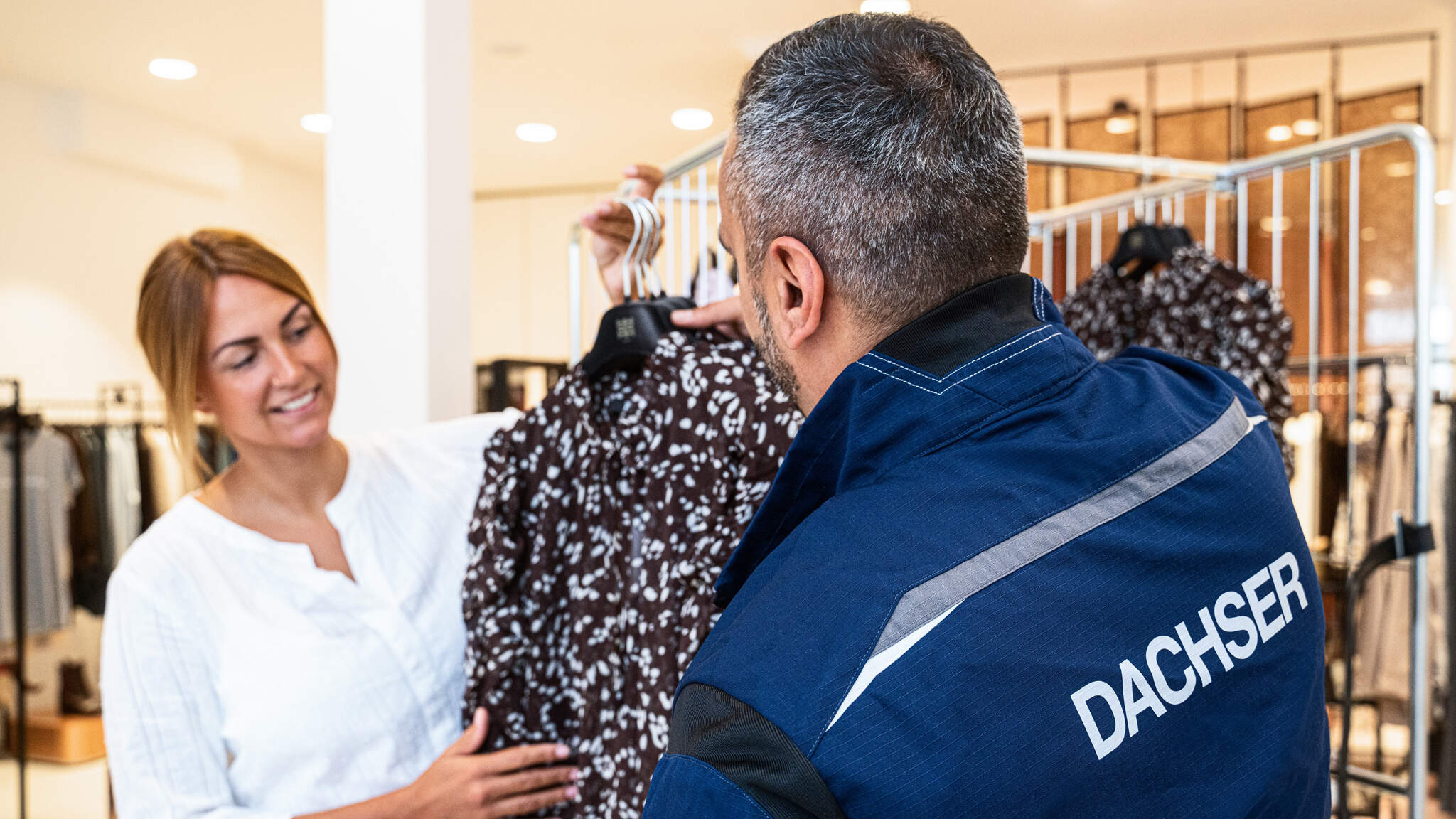 The moving closet
The "GOH" in Roll&GOH stands for "garment on hanger." In this rolling container, hanging goods can be transported throughout Europe and brought directly from the truck to the store. To make optimum use of the space in the Roll&GOH, flat goods can be stowed in boxes on its floor. A special cover keeps the products safely packed and protects them from rain and dust. Once in the store, workers can put the clothing away immediately and in perfect condition without time-consuming additional work. "With Dachser's Roll&GOH solution, we're finally able to offer our exacting customers the option of receiving their wares, including hanging garments, overnight and in top quality. We can't give up this competitive advantage," says Martina Buckenmaier, CEO of the family-run fashion label RIANI.
As a wide-ranging distribution solution for hanging garments, DACHSER Fashion Logistics offers fast and reliable transit times—next-day delivery within Germany, 48- to 72-hour delivery within Europe.
Perfect shipping by air freight, too
DACHSER Fashion Logistics has another innovative solution: the ProFashional Box. It was specially designed for efficient global shipping of hanging and flat goods in air-freight containers called unit load devices (ULDs). The ProFashional Box is easy to use and cost-effective, as it allows protective transport of delicate goods and can be used several times.
Both the Roll&GOH and the ProFashional Box were designed with sustainability in mind. "Transporting hanging goods is a challenge if you want to make optimum use of the cargo space that that takes up," Riechel says. The rolling container DACHSER developed can simultaneously hold hanging garments and cartons underneath for flat goods, enabling highly efficient transport right up to the point of sale. Moreover, it can be used over and over again, saving time and money on the disposal of packaging materials.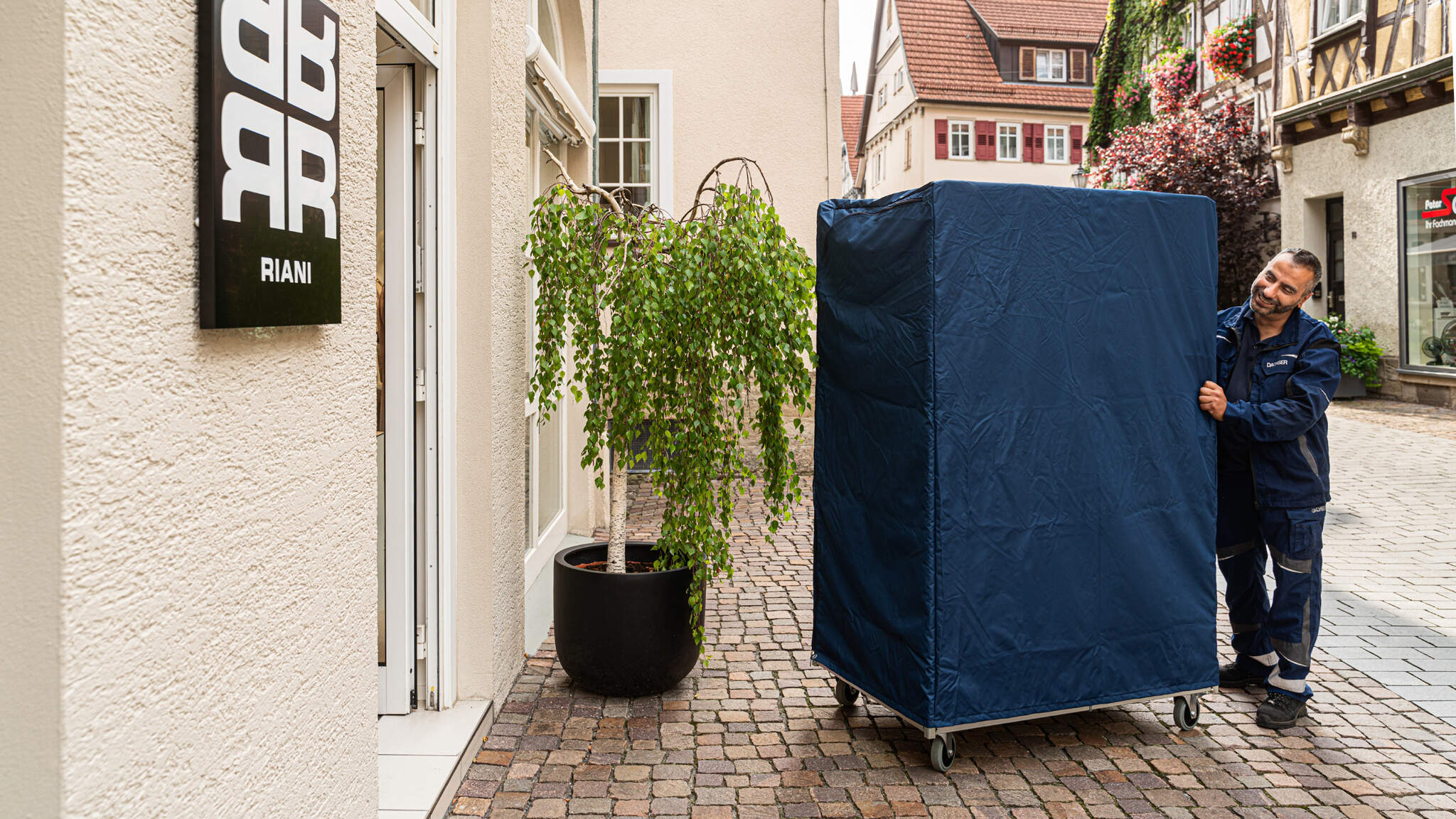 To the clothing rack with zero emissions
In twelve European metropolitan regions, DACHSER also offers its Emission-Free Delivery option, in which battery-electric vehicles serve a defined downtown area. This is a key plus regarding the climate footprint, especially for the fashion trade, as its stores are often located in city centers.
Reducing the CO₂ footprint is just one of the benefits of DACHSER Fashion Logistics: customers can also rely on logistics processing standards that apply across Europe and a fully transparent shipping process. Regardless of where the clothes are to be transported, the DACHSER network of road, air, and sea logistics always produces appropriate fashion solutions with uniform process and service standards throughout the entire global network.
Warehouse locations in all of Europe and around the world offer the greatest possible flexibility to enable precise delivery to discerning fashion customers. Riechel says: "Our motto is 'Getting the right goods to the right place at the right time in perfect condition."