Evolution in goods handling
With a specially designed double-deck unit, a new technology standard is moving into DACHSER's European transit terminals. Developing it was driven by the topics of driver ergonomics, occupational safety, and profitability.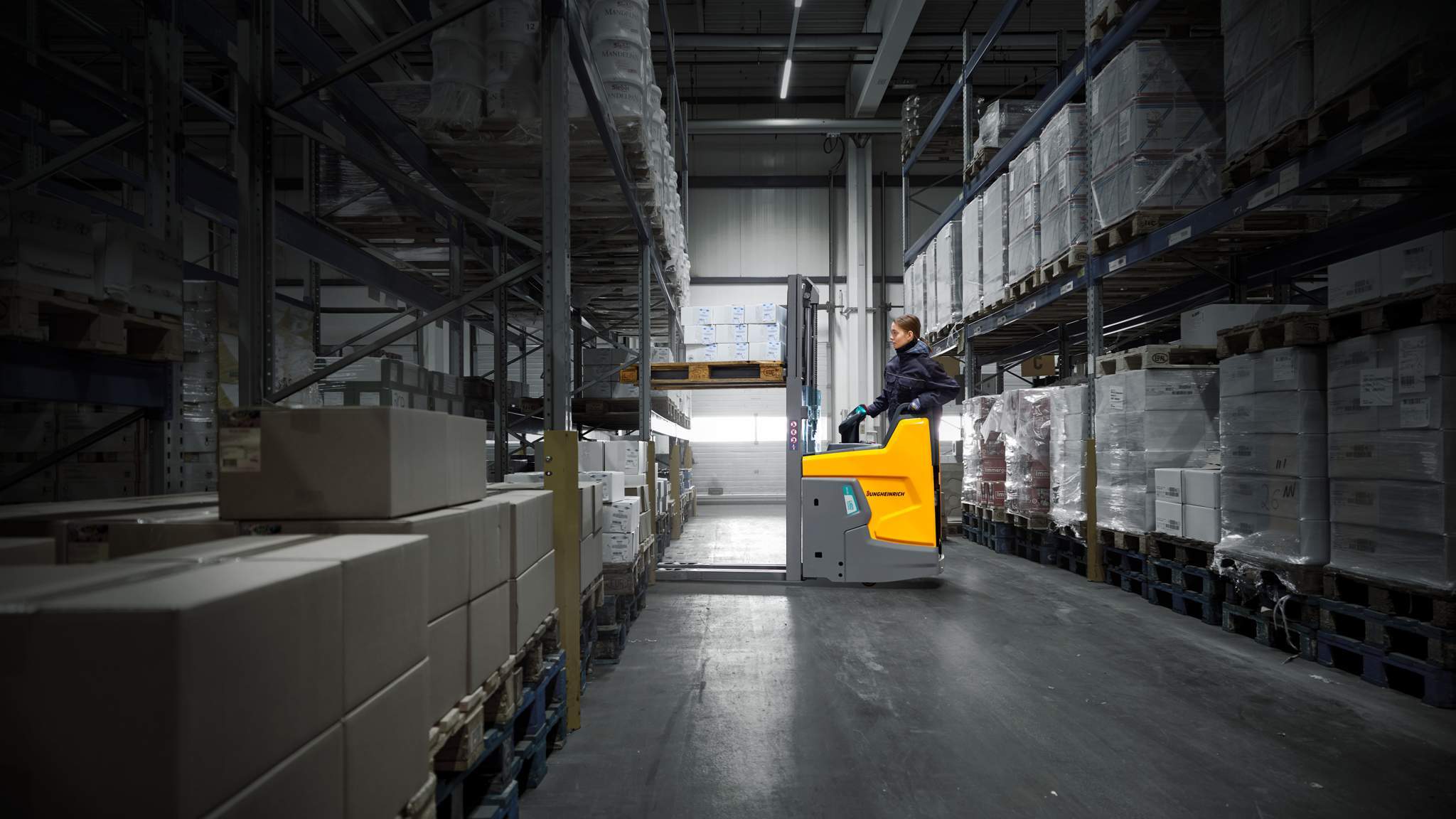 After almost two years of development and testing at selected sites, the time has come: the ERDi from Jungheinrich, a completely redesigned double-deck unit specially adapted for use at DACHSER, can now be deployed in all of the logistics provider's European branches. In the long term, the vehicle will represent the new technology standard in DACHSER warehouses.

"By permanently integrating a lighter lithium-ion battery that takes up less space, we were able to develop a new vehicle chassis that is significantly shorter than the vehicles that have been used to date. Those are designed for lateral replacement of their lead-acid batteries," explains André Bilz, Team Leader Fleet Management Terminal Equipment at DACHSER. This is the first time that it has been possible to build a tiller-guided machine that has a protective, closed driver's cab and can still operate in the two-meter aisles in DACHSER's transit terminals. Earlier solutions with a lateral operating concept and steering wheel operation, known as sideloaders, had not found widespread acceptance among drivers.
Incorporating driver wishes during development
DACHSER and the development team of the manufacturer Jungheinrich worked closely together to develop the new truck type. The needs of the logistics operatives played a central role, and their requirements were incorporated into the design. "This new vehicle makes many of the drivers' wishes a reality, and represents a big step forward in terms of driver ergonomics, occupational safety, and profitability," Bilz says.

The new Jungheinrich ERDi with permanently integrated lithium-ion battery is currently the most compact truck in its class, shaving off a whopping 30 cm from the length of its predecessor. This new development thus also marks the gradual farewell to the lateral battery change, which was previously necessary in multi-shift operation to ensure a sufficient power supply. Using units with the new, significantly more powerful, and largely maintenance-free lithium-ion batteries requires changes to the charging infrastructure. DACHSER is therefore converting its branches in Europe accordingly.